New product from Paliria: Giant beans with greens in a plate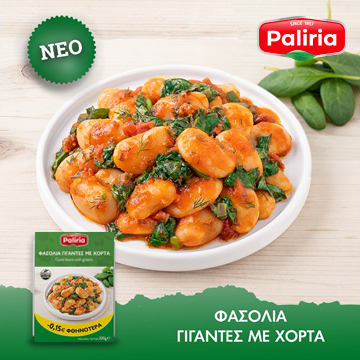 The successful range of Paliria Ready Meals In Plate is enriched with a new meal proposition, the Giant Beans with Greens. This is a delicious variation of the traditional Greek recipe of giant beans in tomato sauce, which is everyone's favourite meal. Apart from its unbeatable taste, the Giant Beans with greens have a high nutritional value as they are a good source of protein and fibre, and are low in sugars and saturated fats.
Paliria's recent launch of dishes in a plate, has already been loved by consumers both for the delicious taste but also for its easy-to-use and convinient packaging, which is an innovation. In addition to the Giant Beans with Greens, the Paliria range includes 2 other classic and much-loved meals: the Dolmades and the Giant Beans with tomato sauce.
Especially during the "Sarakosti" season when consumers are looking for deliciouss options and variety in their daily lives, Paliria offers the solution! All the meals in a plate are an ideal choice for the fasting period as they offer convenience and great taste.