Paliria participates in Foodexpo! In Greece!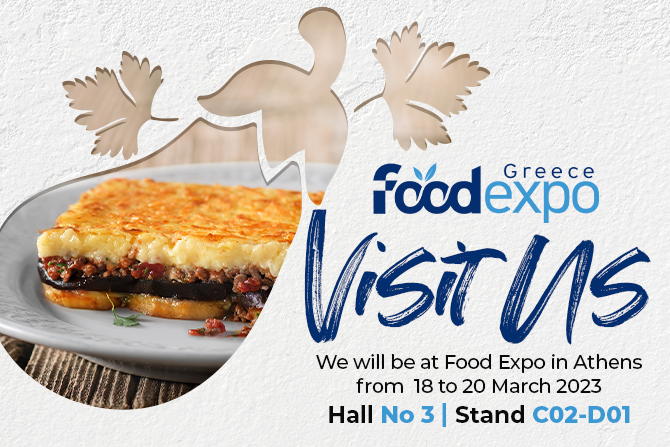 Between March 18 & 20, the Athens Metropolitan Expo Center will be hosting Foodexpo 2023 – the biggest & most prestigious International food exhibition in Greece, with more than 1300 exhibitors coming from more than 40 countries.
Paliria, the leading Greek producer and exporter of Greek ready-to-eat meals and the No1 Dolma (Stuffed Vine Leaves) producer in the world, will participate at this event and would like to invite you and offer you a live taste of its famous products that are travelling the Greek Table all over the world, since 1957.
Paliria creates original products based on Authentic Greek recipes, offering consumers around the world an outstanding homemade Greek food experience.
Among the many different dishes presented by Paliria's chefs on the spot, in our live cooking show, in the Foodexpo we will present our new, exquisite line of "Greek Originals". Greek Originals is a selection of the best Greek recipes that come in ready to eat meals covering all formats, ambient, chilled and frozen, for a complete Greek Table Experience!
Our ambient line includes Paliria's famous dolmas and giant beans as well as a number of tasty recipes based on legumes and vegetables, coming in a convenient format of a plate including a mini fork, promoting the on the go consumption! The all-time classic exceptional Greek meals like moussaka, pastitsio & many more, are coming on chilled format, easy to use and carry, with a fully microwavable packaging! Last but not least, the Greek Originals line includes frozen pies, inspired by traditional recipes coming from all over Greece!
Therefore, we will be delighted to welcome you at the Athens Metropolitan Expo Center, Hall 3, stand C02-D01, to cherish the unique Greek Table experience and explore the possibility of future partnerships!